Step 1: Find and Buy Your Lot
Choosing the right lot that fits your needs is a critical step to the custom home building process. You can always add to our existing house or remodel, but you cannot stretch a piece of land or always alter its features. Things that you should consider:
Location, location, location
Size of the lot
The things around it
Directional orientation of the lot
The amount of curb frontage
Trees and where they are on the lot
Is the community gated
Step 2: Decide on Your Builder
Now you have purchased your excellent lot. Who are you going to trust to build your home and make your visions come true? This is a big trust exercise and a decision that should be well researched.
Work with a builder you know or have worked with before
Ask for a recommended list from the agent that sold you the lot
Tour a parage of homes and select a builder from viewing their product
Obtain a referral from friends who had great experiences with their builder
Search the web for builders that offer free consultations then interview one
Select a builder that shares the same values as you and can understand your needs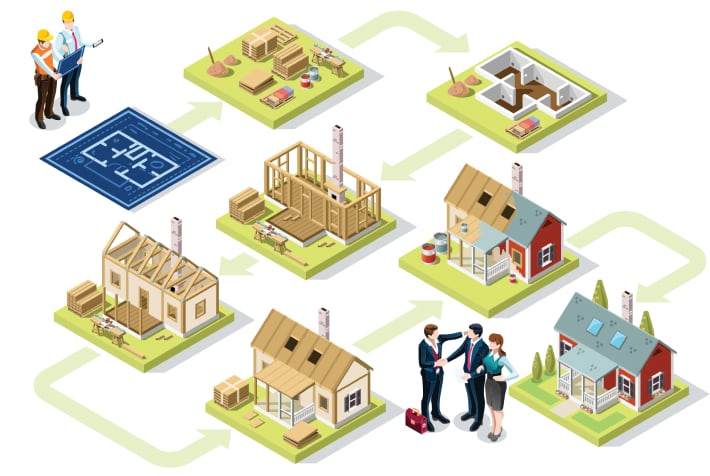 Step 3: Create a Floor Plan
This can be a very fun process. You will see the vision of the design that you have in your head come to life on paper. While enjoying this process there are some things to keep in mind:
Consider the square footage of the home
Do you need a one story or two story?
How many bedrooms and bathrooms are needed?
How will the home need to be positioned on your lot?
The curb appeal and style of the architecture of the home.
What are the materials that you desire to be on the home?
Other needs such as a home office or virtual learning center and more?
What is the overall budget?
Step 4: Sign a Contract
Your builder will be able to provide you with a price of your custom home once all design work and feature levels have been decided. If the price exceeds your budget, then some changes may need to be made to the plan and material selections. An experienced builder should be able to assist with alterations that will keep you within your desired financing.
Step 5: Secure Your Financing
If your do not have a lender then your builder may be able to guide you to preferred lender that he has worked with in the past. There can be benefits to using a lender that the builder knows because there will be draw schedules that you both will work together to assure funding the project runs smoothly. Some lenders may even allow you to roll the purchase of your lot into the financing of your home construction.
Step 6: Choosing Your Interior Features
The larger decisions about your custom home were made during the design step. Now it is time to pick out the final finishes and features of the inside of your home. You will choose everything from lighting to flooring and cabinetry to bath fixtures. Most people believe this to be the most enjoyable time of the entire process. If you disagree, then you builder can provide a skilled interior designer who can assist you with this stage of the process. This can come with a price and most of them charge by the hour.
Step 7: Plan Approval and Permitting
It is getting closer to the time your builder will start building. While you are waiting your builder will be busy submitting your plans to a municipality or county for permit approval. There also may be an architectural control committee within the community where you are building. This committee will review your plans and specifications to assure that your plans meet the communities building guidelines and declaration of covenants and deed restrictions. Once your builder obtains permit and ACC approval construction can begin.
Step 8: The Building Process
This is the day that you and your builder have been working to achieve. Your lot is being scraped and construction has begun. From this day forward there will be a stream of activity and a symphony of processes that collide together to create the home of your dreams. There are some major milestones to look for during this process:
Site preparation – stakes will be placed on your lot to show where your home with sit
Foundation and Framing – The technical term is vertical construction. This means your home is rising and taking shape before your eyes.
The mechanicals are installed – Your plumbing, heating ventilation and air conditioning, and electrical are installed. Your builder should schedule a pre sheetrock walk with you to make sure everything looks correct.
Paint and flooring – You are approaching the finish line. You will also see the cabinets and trim work installed as well.
Hardware, fixtures, and appliances go in – This is toward the end of the process. You will also see landscaping be installed and then carpet will be the final installation.
Step 9: Final Walk, Closing & Key Release:
Your custom home is finished! Your builder will schedule a final walk that usually is two weeks prior to your closing date. This will give your builder a chance to address any small details that need attention and answer any questions that may come up. After that you are ready to close on your new home and receive your keys. Now you can enjoy your home!